Hospital Receives National Clinical Recognition in 2020 for Pulmonary, GI, Heart Attack and More Conditions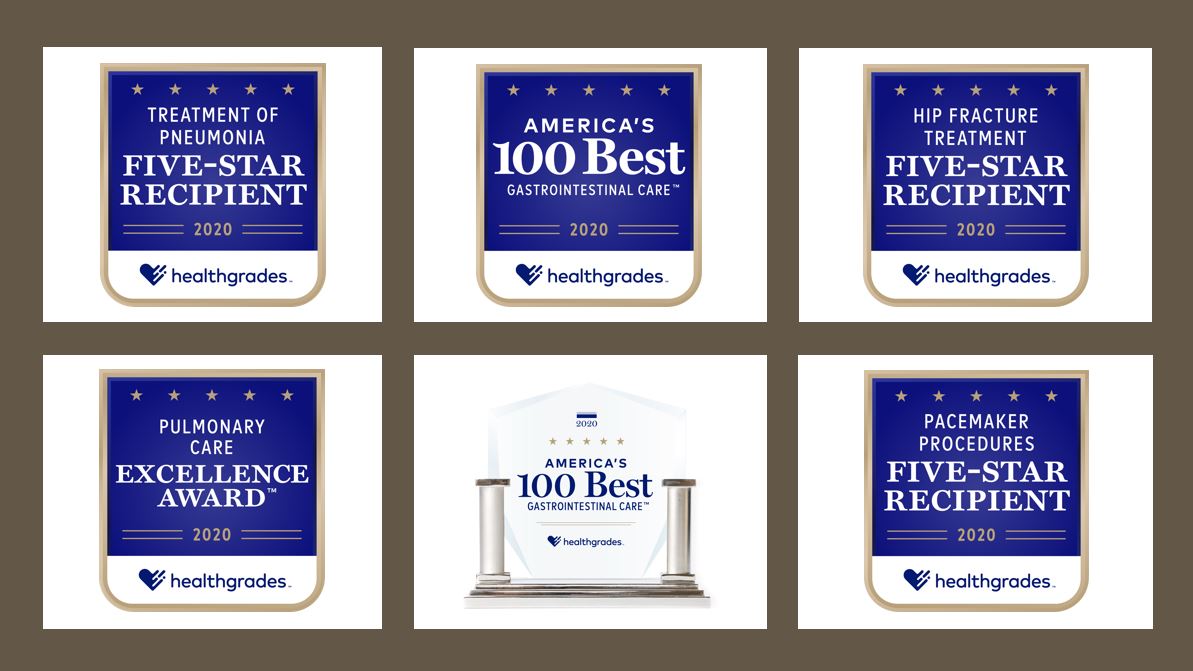 Every year, Healthgrades evaluates hospital performance at nearly 4,500 hospitals nationwide for 32 of the most common inpatient procedures and conditions using Medicare data, and determines the hospitals whose clinical outcomes are statistically significantly better than expected when treating the condition or performing the procedure being evaluated.
"West LA residents should have peace of mind knowing that their local hospital—Southern California Hospital at Culver City—was ranked nationally for GI, pulmonary, heart attack, COPD and several other clinical areas," said Michael Klepin, CEO of Southern California Hospital at Culver City. In addition, sister hospital Southern California Hospital at Hollywood received the same clinical accolades.
Healthgrades' 2020 Report to the Nation provides consumers with the information that shows the importance of hospital quality, as well as the significant variation in health outcomes between different hospitals across the country. The 2020 Healthgrades analysis found that:
Patients treated at hospitals receiving a 5-star rating have a 49% lower risk of dying and a 59% lower risk of experiencing one or more complications during a hospital stay than if they were treated at hospitals receiving a 1-star rating in that procedure or condition.
If all hospitals as a group performed similarly to hospitals receiving 5-stars as a group, from 2016-2018, 220,019 lives could potentially be saved and 149,403 complications could potentially be avoided among Medicare patients alone.*
Southern California Hospitals at Culver City and Hollywood were among the top in the nation for:
Top 10% for GI Medical Treatment 7 Years in a Row (2014-2020)
Pulmonary Care Excellence Award (2019-2020)
Top 5% in the Nation for Overall Pulmonary Services (2019-2020)
National five-star recipient for treatment of:
Heart Attack 3 Years in a Row (2018-2020)
GI Bleed 8 Years in a Row (2013-2020)
Hip Fracture 7 Years in a Row (2014-2020)
Esophageal/Stomach Surgeries 7 Years in a Row (2015-2020)
Chronic Obstructive Pulmonary Disease 3 Years in a Row (2018-2020)
Pneumonia 2 Years in a Row (2019-2020)
Sepsis 2 Years in a Row(2019-2020)
"Consumers have many choices when it comes to choosing a hospital where to receive care and the choice can be a matter of life and death," said Dr. Brad Bowman, Healthgrades chief medical officer. "The hospitals that have been recognized as 5-star rated for specific procedures and conditions stand out above the rest for the ongoing dedication and commitment to providing exceptional care to their patients."
See the complete Healthgrades 2020 Report to the Nation and detailed study methodology.
*Statistics are based on Healthgrades analysis of MedPAR data for years 2016 through 2018 and represent three-year estimates for Medicare patients only.
To find a physician affiliated with our hospital, visit our physician finder.