Our High Reliability Organization Journey Resulting in Improved Patient Outcomes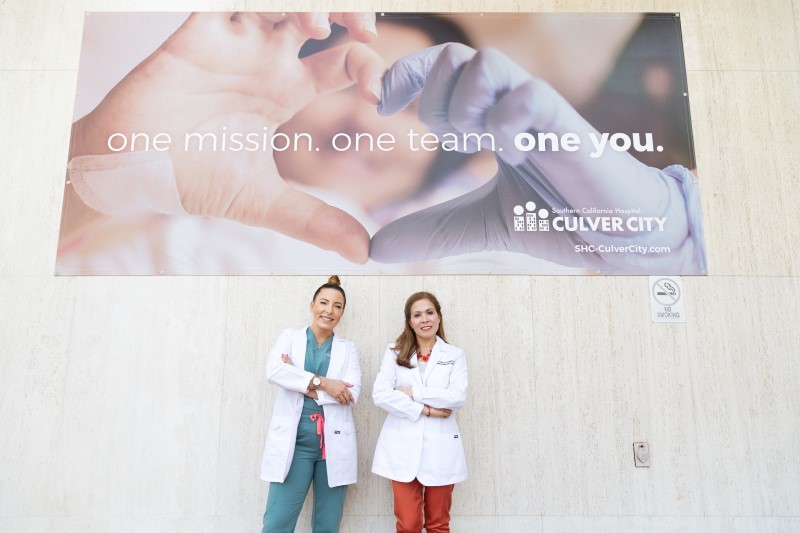 (Pictured): Danielle Mendez and Rotch Delos Santos
All Prospect Medical hospitals—including Southern California Hospital at Culver City— are embracing the principles of High Reliability Organizations (HROs) in the promotion of patient safety and efficient healthcare delivery. HROs are defined as organizations that manage complex, potentially hazardous operations for extended periods of time without serious accidents or catastrophic failures.

Since 2019, SCH-Culver City has made a facility-wide commitment to becoming an HRO. Everyone from leadership to frontline staff is dedicated to the goal of zero harm to every patient, in every experience, every time. Despite the unforeseen impacts of the COVID-19 pandemic, successes due to the ongoing transformation have already reverberated throughout multiple units of the hospital in the form of improved patient outcomes.
As you know, our hospital is currently is among the top 5 percent in the nation among for Patient Safety Excellence from (2018-2021), according to Healthgrades. This outside organization recognizes our staff for superior performance that has prevented serious and potentially avoidable complications for patients. The purpose of the HRO program is to further hardwire the existing safety culture into behaviors and skills.

"The reason why we chose to go toward becoming an HRO is to prevent errors from happening and to protect patients, as well as each other as staff," said Director of Nursing Danielle Mendez. "That's the importance of bringing the initiative to our facility, to focus on safety across the board."

Along with her day-to-day role, Mendez works as an educator who presents information about HRO concepts and initiatives to hospital staff. For instance, the HRO program emphasizes acute, real-time awareness of the state of systems that affect patients and resilience from leaders and staff when system failures do occur. She also teaches staff members how to better focus on patient safety during crucial moments, like patient handoffs and medication dosing.


Collaboration Equals Success
Mendez and other HRO leaders have already seen positive changes as a result of collaborative efforts with nurses and other employees throughout the hospital. To document the progress, Rotch Delos Santos, telemetry nurse manager, created nursing quality boards for her unit that display up-to-date numbers on key measures they are working to prevent, such as falls and hospital-acquired infections. As an example, the last central line-acquired bloodstream infection occurred in January, the last pressure injury was reported in April, and the unit has gone up to 30 days without any patient falls.

"I'm doing this not only because it is my job to promote zero harm to patients, but I was inspired because of my mom's personal experience in the hospital," said Delos Santos. "When my mom was in the hospital, she had a fall and sustained fractured ribs. She ended up coding, so this is an experience that I don't want other patients to have."

Delos Santos and the leadership team meets every weekday morning to review procedures that promote high reliability and the ability to identify patients at high risk for falls, infections, and pressure injuries. At this point, almost 100 percent of the hospital staff has been educated on HRO concepts, and leadership plans to keep track of long-term quality measures and use the data to make further improvements in quality and safety.

"We will keep following through with our HRO journey so that we can achieve success and consistently promote zero harm," she said. "I think consistency is the key, as well as continuing to educate the staff. As a hospital, we need to understand the purpose and benefits of becoming an HRO."