Don't Put Your Health on Hold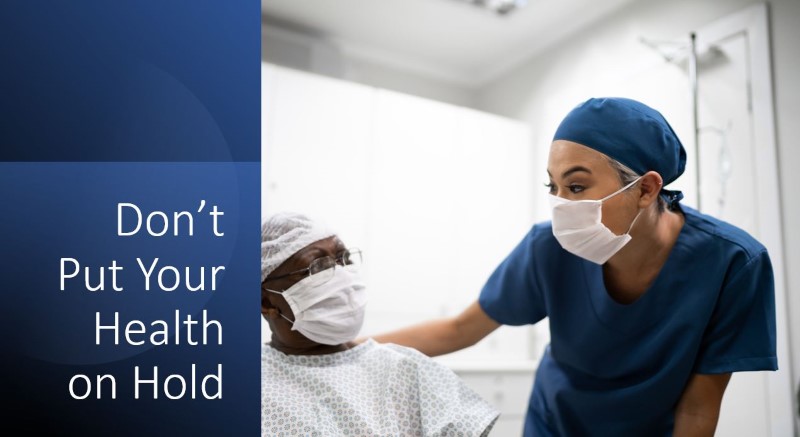 Our hospital has implemented extra safety precautions for more than one year now to ensure you remain safe while seeking vital medical care. Delaying important screenings and treatment for chronic conditions can be dangerous and may lead to worsening conditions. Follow these four tips to get the treatment you need:
Don't Distance from your Doctor
Don't Skip your Screenings
Don't Delay Emergency Care
It's Safe to Get Care
Hear from our employees on why they chose to get vaccinated.
Your Safety and Well-Being are our No. 1 Priority
For more than one year, we have been following state and federal guidelines—as well as our own rigorous processes and clinical standards—to create the safest possible environment for you and our staff.
To balance care with caution, our enhanced measures include:
Pre-procedure screening for all surgery patients
Social distancing policies for staff and patients
Adequate supply of Personal Protective Equipment (PPE), ventilators, medications, and other medical supplies
Daily terminal cleaning of the operating rooms to include the use of vaporizing aerial hydrogen peroxide technology for additional disinfection
Separate inpatient and outpatient admitting areas, entrances and exits to prevent any potential exposure
Inpatient and outpatient staff remain in designated areas assigned for the length of shift
We continue to abide by the "No Visitor" policy. Exceptions can be addressed on individual basis. One of our admitting representatives will review our safety procedures prior to your procedure.
We look forward to providing valuable healthcare services to our community. If you have any questions or concerns, do not hesitate to contact your surgeon, or call us at (310) 836-7000.
COVID-19 Update and California Crisis Continuum Guidelines
Our hospital follows the guidelines recommended by the California Department of Public Health to determine the appropriate steps and actions for our environment and resources during a surge of patients, which can occur with a pandemic, such as COVID.
This document link below provides an overview of the surge capacity and crisis care operations our hospital has taken into considerations to ensure we continue to provide the best care for the individual patient to delivering the best care for our community.
California SARS-CoV-2 Pandemic Crisis Care Guidelines
Delay Care and Your Health
These resources provide more research and data about delaying care:
Risk of Delaying Care: Is it Better to Wait or Make an Appointment Now?