Entrée Reimagined Results in Inspired Cafeteria Food for All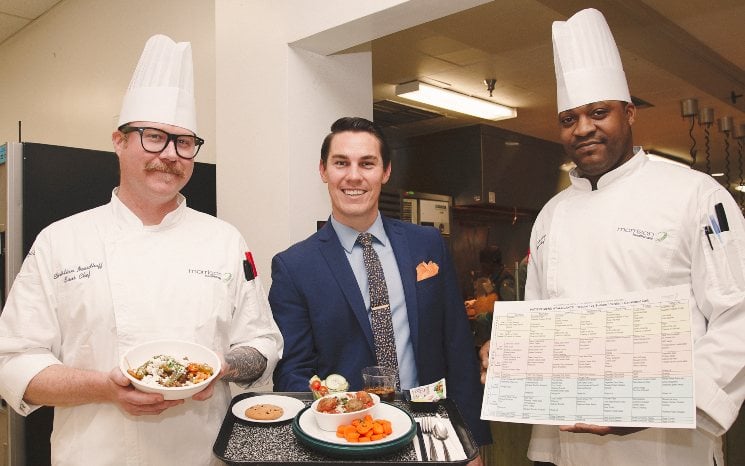 Southern California Hospital at Culver City is helping to redefine hospital food with a new and improved café menu, Entrée Reimagined, that takes inspiration from popular restaurants like Chipotle and Wingstop. Visitors and employees can now enjoy an ever-rotating menu that cycles through concepts like Verde (Mexican), Smokehouse (BBQ), Cheese Louise (mac and cheese), and Honest Bowl (grain bowls).

"Instead of offering what you would expect from a hospital cafeteria, like a meatloaf or chicken dish, we wanted to spice it up a little bit," said Joey Shanahan, senior director of Food and Nutrition Services (FANS). "We aimed to provide an elevated experience and more variety for our café guests, including hospital staff who are going to be our regular patrons, week in and week out."
Entrée Reimagined
FANS, managed by Morrison Healthcare Food Service, rolled out Entrée Reimagined last November. The restyled menu mirrors restaurant concepts and branding commonly seen outside of a hospital setting. For instance, Verde offers a build-your-own-taco dish with a choice of fire-braised pulled chicken, shredded barbacoa beef, and Impossible Foods plant-based taco meat. An Honest Bowl allows customers to order a grain bowl with veggies on either brown rice or tri-color quinoa, along with a protein like lemon rosemary chicken thigh or tomato-braised beef.

Other concepts include Spud Shack (baked potato bar) and Wings & Flats (chicken wings) on Mondays, Greek Street (gyros) on Wednesdays, Hot Diggity Dog (gourmet hot dogs) and Iron City Pizza (Detroit-style pizza) on Thursdays, and Tavola (Italian), Zen (Asian), and Callaloo (Caribbean) on Fridays. Entrée Reimagined also offers more meat-alternative options, such as a Beyond Meat burger or cauliflower buffalo wings, than the previous menu.

"We want our guests to have the same quality and experience you would get going to a restaurant," said Shanahan. "There's this stigma with hospital food, so we're redefining the food we're serving."

In addition, the café now offers a wider variety of fresh to-go items for visitors or employees who are in a rush. Patrons can grab a sandwich, pita wrap, or salad for a full meal, and a yogurt parfait or fresh fruit cup for snacking.
Great Living
Shanahan, a registered dietitian, also refashioned the hospital's patient menu last April. Called Great Living, the new and improved menu focuses on low-sodium and low-fat meals. The dishes substitute more herbs and spices for salt and fat, which makes them healthier without sacrificing flavor. Patients can enjoy meals like oven-fried chicken with herb sauce, mashed sweet potatoes, and braised greens; pork carnitas with Spanish rice, flour tortilla, steamed broccoli, and roasted tomato salsa; and Southwest crusted tilapia with black bean and rice, zucchini, and squash.

Since the roll-out of Great Living, the hospital has already seen an improvement in patient satisfaction scores regarding food service.

The new menu is also more streamlined on the production side, meaning patients will receive their meals faster and at the ideal temperature. The team continues to use reusable dishware whenever possible, instead of disposable paper plates or plastic utensils, which also helps to keep food warm.
"With Great Living, the regular menu is no longer separate from a low-sodium, low-fat option," Shanahan said. "We wanted to make sure that the everyday menu we serve is already healthy in order to promote wellness for all our patients."