"Fueling the Fearless" Feeds Southern California Hospital at Culver City Frontline Employees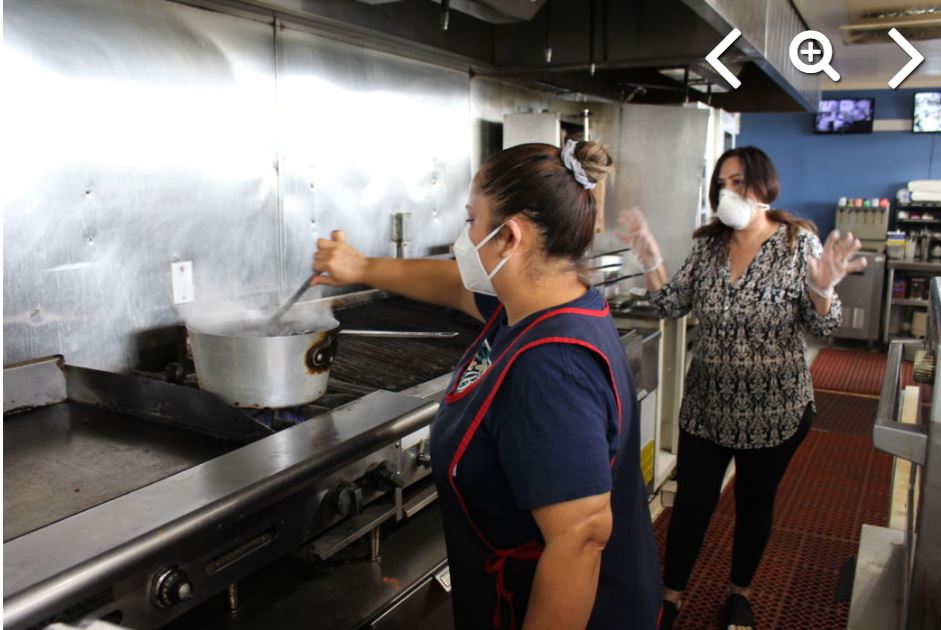 Courtesy of PBS SOCAL
When Kate Griendling offered to bring her friend lunch at Ronald Reagan UCLA Medical Center in Westwood two weeks ago, she had no idea she would soon be leading an effort to feed hundreds of doctors, nurses and others on the frontlines of the COVID-19 battle.
Griendling had seen the messages her friend, a nurse at the hospital, had posted on social media.
"I just knew she was under a lot of stress and her husband is a doctor at the same hospital," the Redondo Beach woman said Wednesday. "I was like, 'Can I bring you lunch or something?'"
That one meal grew into dozens more as Griendling figured she could raise enough money to buy meals for all the personnel in the COVID-19 units and her friend's floor.
Emails to co-workers and their "South Bay Mommies" Facebook page post did the trick. Donations rolled in and in a couple of days, 70 Greek meals were served.
"I said, 'This is repeatable,'" Griendling said.
Aided by her friend and fellow Redondo Beach mommy, Brooke Kronschnbel, "Fueling the Fearless" was born. Since March 30, the fledgling non-profit has raised more than $8,000, enlisted restaurants and caterers to participate, and delivered nearly 900 meals to doctors, nurses and other personnel working at 10 Southern California hospitals.
Several more hospitals, urgent care centers and medical clinics are on their list for future deliveries, and two more women, Becca Reis and Lindsay Regan, have joined the leadership.
"We see on social media the people in COVID units, the sores around their eyes from the goggles, and we see how tired they are," Kronschnabel said. "I appreciate what they are doing so much…They need the love and support from their community."
On April 3, "Fueling the Fearless" delivered pastries and coffee for 100 employees at Southern California Hospital at Culver City. CEO Michael Klepin said Griendling and her group offered lunches for those working in the emergency room and COVID-19 units, but he suggested they spread the wealth to the entire staff.
"We were just so excited and it is just a great gesture," Klepin said. "We have a lot of staff here. They are on the front lines. They are stressed. They are nervous. Just like all of us they are anxious."
Klepin said it was important for his staff to feel appreciation and to experience "that kind of humanity" as they went about their difficult work. He greeted the delivery and welcomed the donation, which helped the hospital staff to know they are not alone. Knowing the food was purchased with community donations, made it that much more special, Klepin said.