Southern California Hospital at Culver City's Linares Wins National Environmental Services Award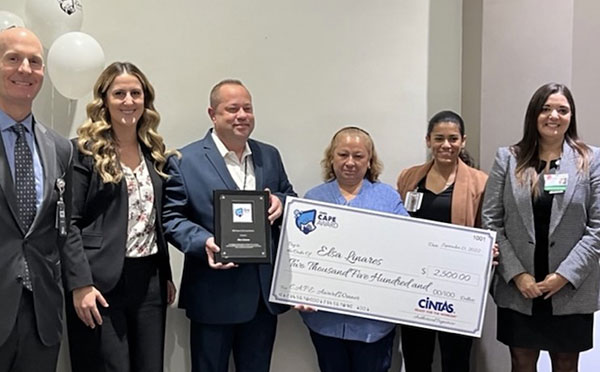 (left to right) Anthony Bandura and Chelsea McTigue of Cintas, Southern California Hospitals' EVS Director Jerahmy Farradzs, Elsa Linares, SCH-Culver City Associate Administrator Katherine Avendano, and SCH-Culver City COO Chantel Pizarro

Each year, Cintas Corporation announced its C.A.P.E. Award (Cleaning to Advance the Patient Experience) winners to honor of environmental services (EVS) employees. The awards were established to recognize exceptional EVS professionals in acute or long-term care facilities.
At a recent celebration at Southern California Hospital at Culver City, Elsa Linares was honored as one of ten national C.A.P.E. Award recipients.
"We received over 700 inspiring stories of incredible EVS technicians in the U.S. and Canada, and we're proud to recognize their contributions to their patient care teams and senior leadership with this special C.A.P.E. Award program," said Chad Poeppelmeier, Cintas vice president of healthcare. "We take great pride in celebrating these winners who've worked tirelessly to maintain clean and safe environments for healthcare workers, patients, residents, and their families."
EVS technicians play a critical role in cleaning and sanitizing public and private areas of hospitals, including patient rooms, to eliminate viruses, germs, and hospital-acquired infection.
The winning EVS technicians are at the frontline of patient care and are selected based on the quality of their service and dedication. They received a $2,500 check for their contribution, a Rubbermaid charging bucket filled with sustainable microfiber products for the EVS technician and the facility, and a scholarship to attend one of the Association for the Health Care Environment's (AHE) program signature series Train the Trainer programs.
"We are thrilled that Elsa was selected for this prestigious award," said SCH-Culver City's Katherine Avendano, Administrator, Associate Services." She has gone above the call-of-duty for our hospital and for our patients."