Rehabilitation Services
Medical care is often just the first step in managing an illness or injury. Rehabilitation therapy helps patients recover and regain the abilities they need to get back to daily life. The rehabilitation services department of Southern California at Culver City has a staff of more than 100 therapists, physicians, nurses, social workers, and psychologists available to assist patients with every step toward regaining their independence.
We offer physical, occupational, and speech therapy for people of all ages. Our goal is to work closely with patients to provide individualized treatment using strategies that specifically address the limitations specific to each patient. Our highly trained therapy team always takes each person's needs and condition into consideration when coming up with a treatment plan.
The hospital provides both inpatient rehabilitation services as part of a patient's recovery process, as well as a separate program within the acute rehabilitation unit (ARU) for those who need extended rehabilitative care after hospital discharge.
Acute Rehabilitation Unit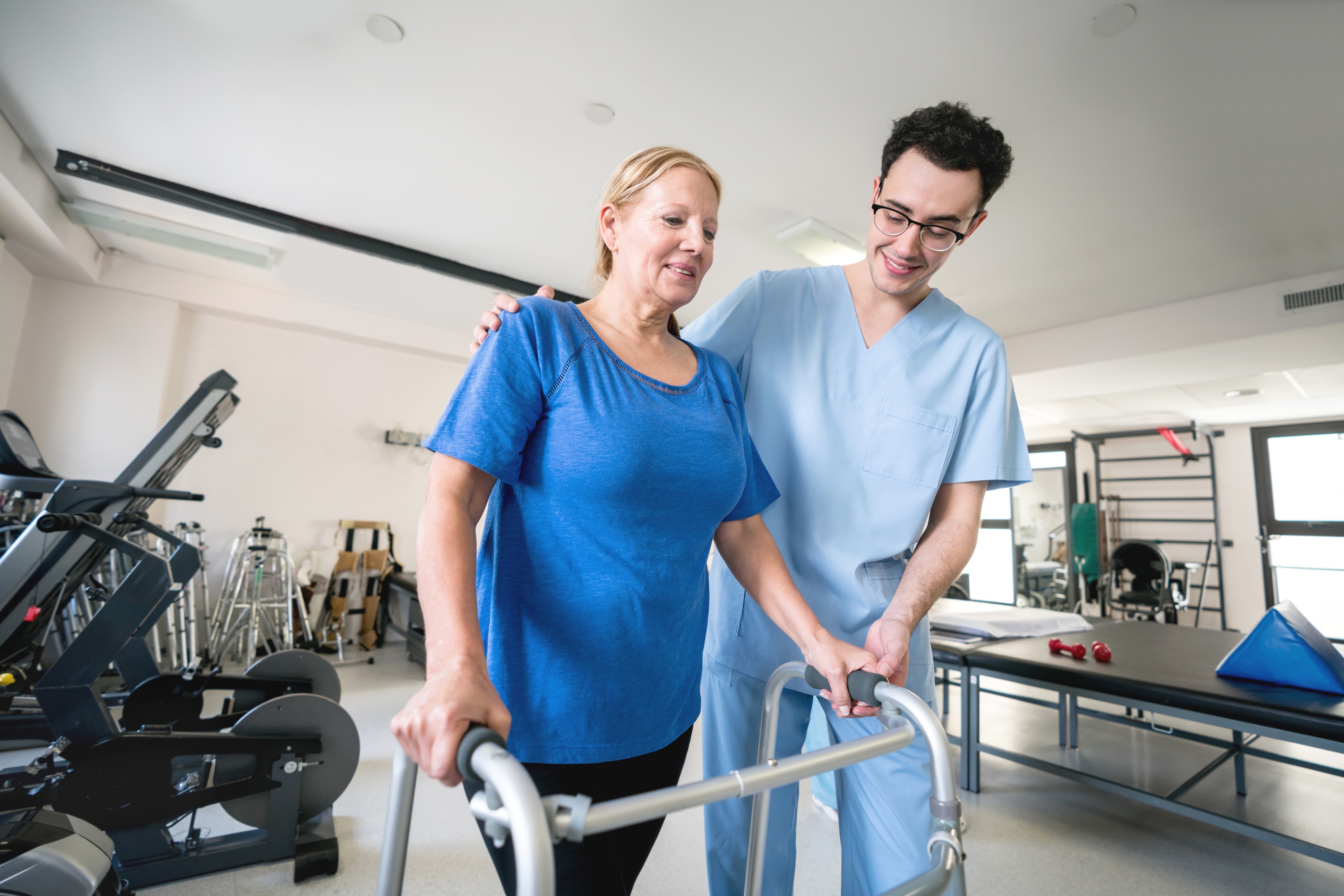 The ARU is a specialized acute comprehensive medical rehabilitation program for those who have suffered a disabling illness or injury. This acute rehab unit is distinct from the general rehabilitation therapy provided while still in the hospital. We offer a more intense program of rehabilitation therapy and nursing after hospital discharge in order to return patients to the highest level of independence possible.
Our interdisciplinary therapy team provides patients with physical, occupational, and speech therapy services as needed. Our person-centered standard of practice is to provide patients with as much therapy as the rehabilitation physician feels is safe and that you can safely tolerate.
The 26-bed unit provides extensive therapy for patients with neurological, orthopedic and other conditions who are otherwise medically stable. The team develops an individualized plan of care within days of admission and a team meeting is held for each patient weekly. We offer a mix of private and semi-private rooms depending on availability, and our well-equipped therapy gym is contiguous to the nursing station allowing for excellent communication between all disciplines.
The ARU has achieved certification by Medicare as an
Inpatient Rehabilitation Facility
, which is a free-standing rehabilitation unit in an acute care hospital that provides an intensive rehabilitation program. As required, we submit publicly available quality data on rates of infection, falls, readmissions, and other measures to the Centers for Medicare & Medicaid Services (CMS).
We provide 24-hour rehabilitation nursing services, daily physician visits, and three hours of therapy a day, five days a week.
Family and friends may visit their loved ones from 8 a.m.-9 p.m. every day.
In-Hospital Rehabilitation Services
Our multidisciplinary team of highly-trained, compassionate rehabilitation professionals is committed to high quality and effective care. Our therapists have experience in all stages of illness and injury. For those patients hospitalized at Southern California Hospital at Culver City, we offer a full range of comprehensive rehabilitation services, including the following:
Gait evaluation and training
Activities of daily living training
Transfer training
Wheelchair positioning and mobility training
Fall prevention
Bowel and bladder training
Cognitive and perceptual evaluation and retraining
Psychological evaluation and counseling
Oral-motor/swallowing skills assessment and management
Pain management
Medication management
Community re-entry activities
Patient and family education/training
Discharge planning
We treat patients from the most acute stages at the hospital bedside to full recovery. Our rehabilitation team helps patients recover from a wide variety of medical conditions and injuries, including:
Amputation
Stroke
Spinal cord or brain injury
Major multiple trauma
Hip fracture
Arthritis (including lupus)
Joint Replacement
Cancer without radiation or chemotherapy
Cardiopulmonary conditions
Rhabdomyolysis
Systemic vasculitis
Neurological disorders
Multiple sclerosis
Multiple dystrophies
Parkinson's
Myasthenia gravis
Encephalopathy
Guillain-Barré syndrome
Cerebral palsy
Polyneuropathy
Contact Us
Our hospital is conveniently located in the heart of Culver City between Venice and Culver boulevards at 3828 Delmas Terrace. For more information about our rehabilitation services, call (310) 202-4777.