Employee Perspectives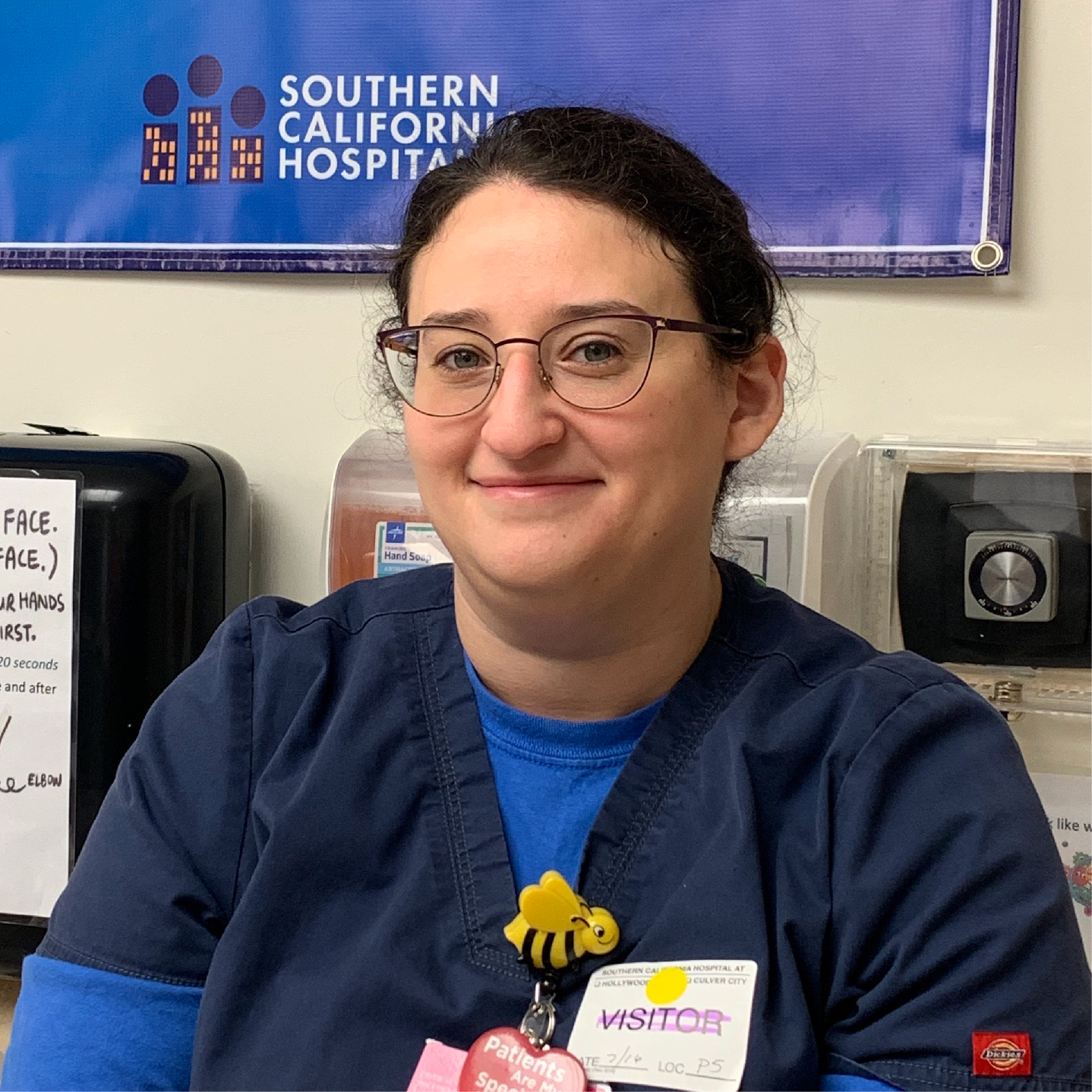 "Patient safety is our No. 1 priority."
One of the great things about working at Southern California Hospital at Culver City is the team environment where we make efforts to help each other to give the best patient care. Priority No. 1 is patient safety; If I need help keeping a patient safe or lift a patient into a bed, there is always someone to help. I am always treated with respect and given the help I may need. - Bracha, RN, Medical-Surgical, Culver City
"I've been able to expand my experience over the last 14 years."
I've dedicated my life to Southern California Hospital at Culver City for the past 14 years because everything here is so important to me. I've expanded my experience and had the opportunity to do so many things, including working with patients in rehabilitation, as well as high acuity ventilator, tracheostomy and telemetry patients. The medical-surgical floor is a great place to start because once you learn those skills, you are experienced.
I also love the management team here, they are understanding and flexible with my schedule when needed. - Janet, RN, Medical-Surgical, Culver City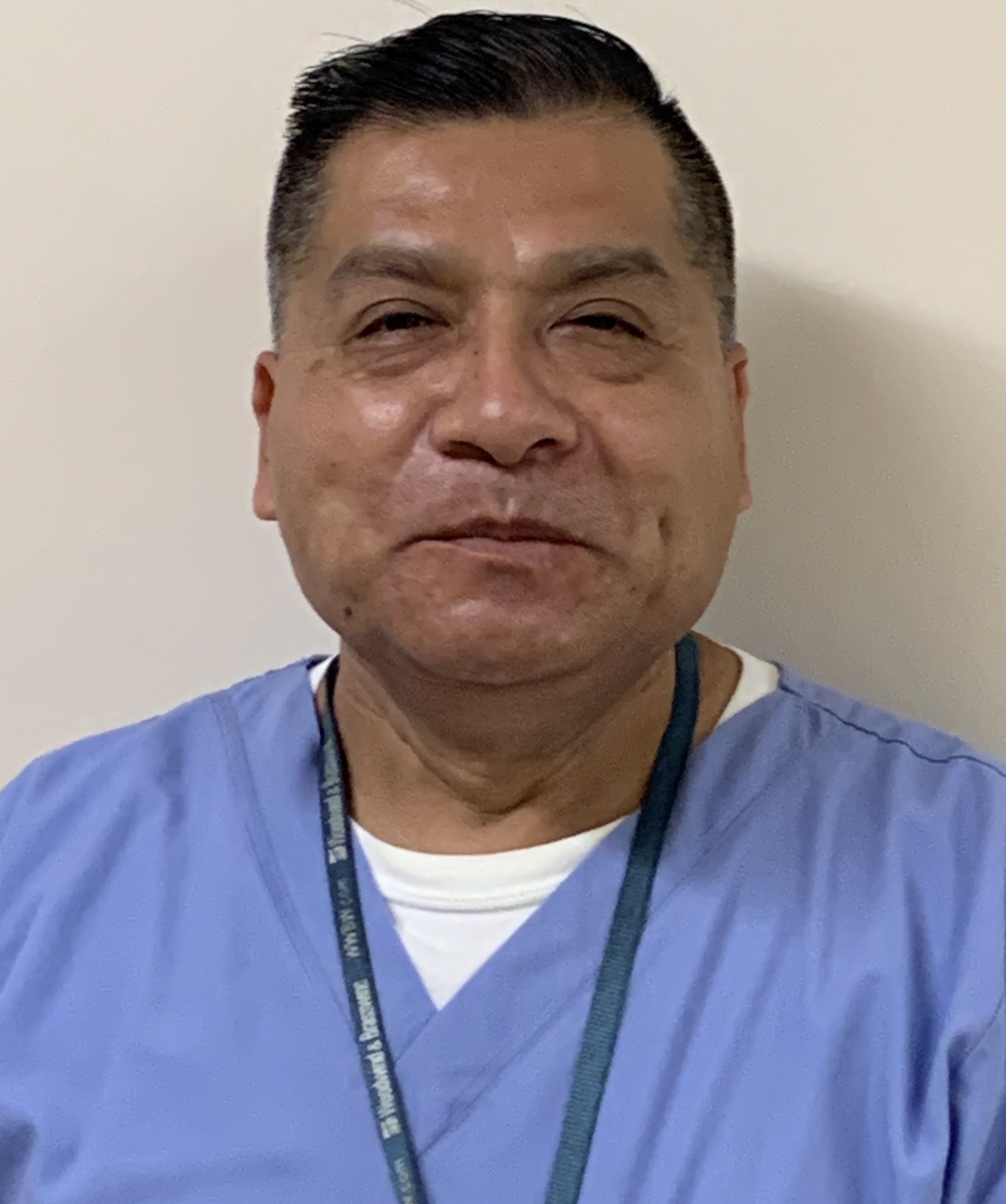 "I love the patients and ensuring they get good care."
I've been at Southern California Hospital at Culver City for 21 years. Even now, after all these years, it's still an interesting place to work as I continue to learn something new every day from the other nurses and the doctors. It's great that I also get the chance to help the new nurses. I love the people here, they make my job easier; but mostly, I love the patients and ensuring they get good care. - Levi, LVN, Medical-Surgical, Culver City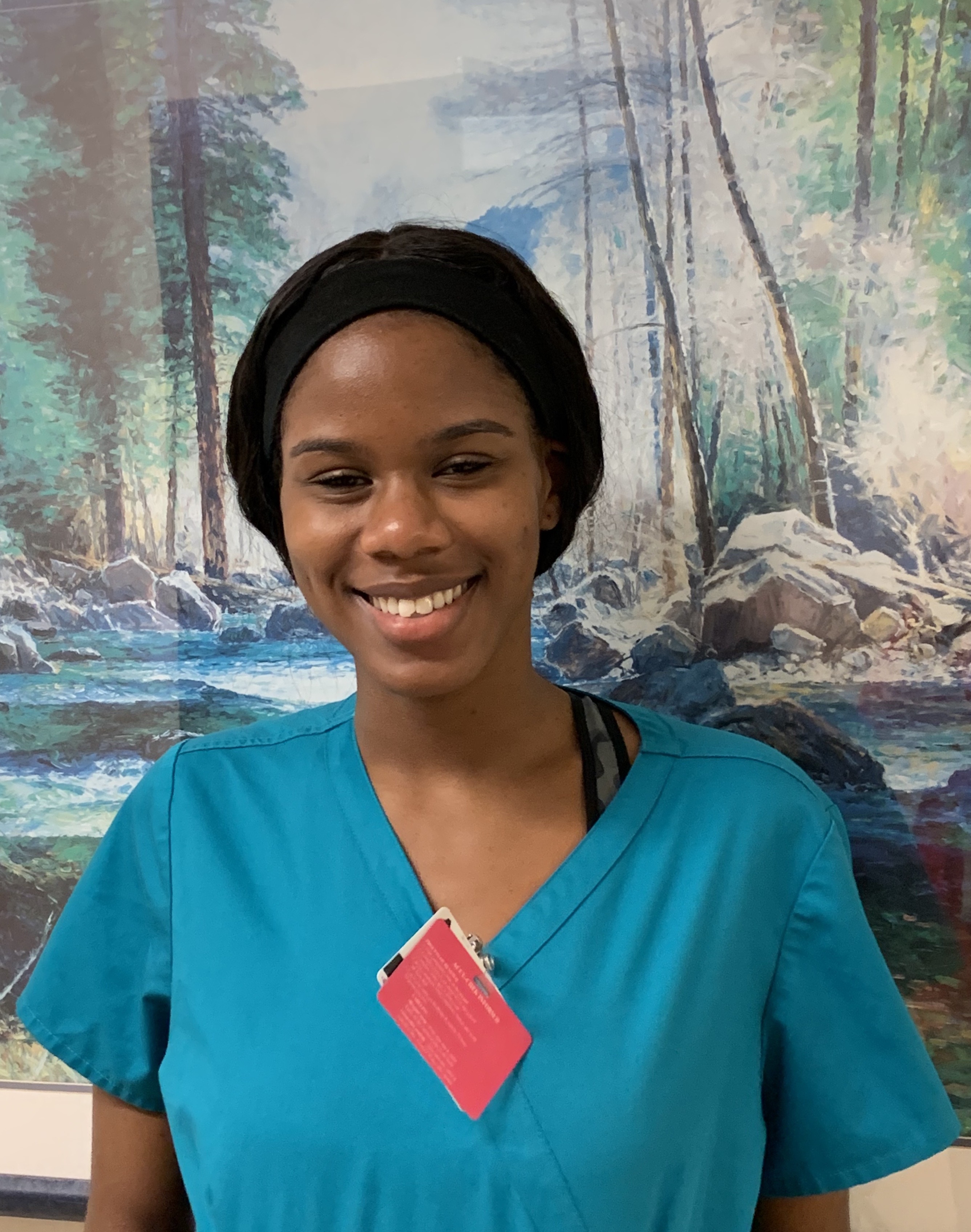 "Great Place to Take Care of Patients and Advance My Career"
I came to Southern California Hospital at Culver City through the new graduate nurse program. It's a great place to get experience and grow. I especially love the flexible schedule and advancement opportunities. You get the chance to gain experience in various clinical areas, such as telemetry, and different positions, such as charge nurse and precepting. All this helps me to be a better nurse to my patients and advance my career. - Dahlia, RN, Medical-Surgical, Culver City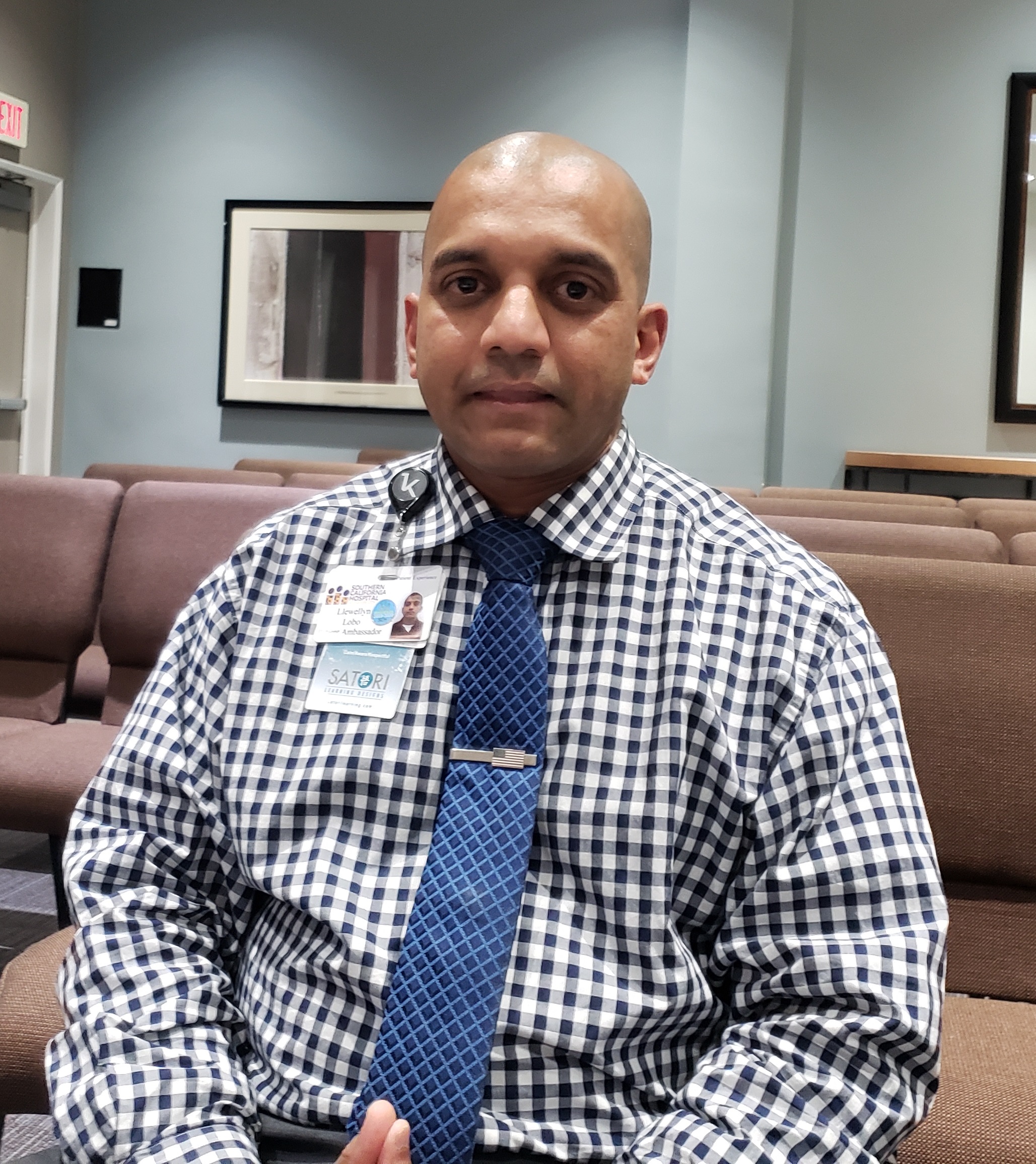 "Culver City Hospital is Committed to Ensuring Positive Interactions between Staff and Patient"
Happy people make successful people is the motto I learned from my father in India and have tried to always live by. I began my career working at a 7-Eleven, a gas station and even in transportation before I was fortunate enough to come to Southern California Hospital at Culver City five years ago. Here, I've been given the greatest opportunity to use my gifts and potential to make a difference in our patient's lives. The secret to de-escalating an unhappy patient is to show him or her respect —that all it comes down to: listening and respect.
I'm an active ambassador for our patients and the community by ensuring positive interactions. Culver City hospital is the perfect place to do just that. – Lobo, Patient Ambassador
"A Diverse Patient Population with Unique Issues"
I've been working at Southern California Hospital at Culver City for six months, and I'm so glad I chose to work here! We have a diverse patient population with unique issues, so I've quickly gained a lot of experience.
It's also great to work at a hospital with stellar teamwork; new nurses can get the support needed to help navigate different situations. - Austin, RN, Medical-Surgical
"Staff has Great Attitude"
As a medical-surgical registered nurse, my day is consistently busy. There are many challenges working on a med-surg unit, so as a new grad it's important to have people you work with be by your side and support you with a positive attitude.
At Southern California Hospital at Culver City, the people go out of their way to help you give quality patient care, from learning to help a patient out of a bed and giving medications, to using Accu-Check and disconnecting an IV. This is a great place to learn as well as a great place for career growth. - Lynn, RN, Medical-Surgical
"Great Opportunity to Become an Experienced Nurse"
I love working on the medical-surgical unit at Southern California Hospital at Culver City. Our patients range from strokes survivors and car accidents victims to those who underwent weight-loss or cardiac surgery.
It's really a unique opportunity to become an experienced nurse with such a diverse patient population. - Shaunte, RN, Medical-Surgical
"I Enjoy Giving Patients Hope After an Injury"
I love working in the rehabilitation unit at Southern California Hospital at Culver City because we provide accessible care to everyone. We help patients with acute disabilities regain function and independence.We are here to care for our patients and help them to reach their best potential.
We also work hard to give patients hope after an injury. Sometimes they are catastrophic patients who had a stroke, car accident or spine injury. We provide the resources and care to help them move forward. For example, with a stroke patient who can't move his or her legs, we become the advocate with their family and fight for the patients; we believe all lives are worth it.
The type of rehabilitation patients we have brings us together. We work IN the community and we work FOR the community. People appreciate it! - Jessie, Occupational Therapy
"I've Considered Other Places to Work, but Nothing Compares to Here"
I've been at Southern California Hospital at Culver City for 19 years because there is no other place like this. It's a place that makes you feel like it's your home. I'm always busy juggling many things at once with charting, answering and transferring calls, and faxing other departments, but people are always respectful and courteous. I've considered other places to work, but no place compares to my family here. - Maria, Medical-Surgical
"It's Extremely Rewarding to Treat Patients Who Have a Real Chance to Recover"
As a physical therapy assistant at Southern California Hospital at Culver City, there is a mix of seasoned therapists that help me gain the experience required to treat a multitude of patients with different diagnoses.
It's a fast-paced environment and extremely rewarding to be able to treat patients who have a real chance to recover. - Daniel, Physical Therapy
"Our Patients Appreciate the Rehab Care We Provide"
Southern California Hospital at Culver City is a great place to work, which is why I've chosen to be here for 11 years. I love working on the rehabilitation unit because of the diversity of the patient population, from young to old, from rich to poor, to all nationalities of the world—our patients reflect LA demographics.
I especially appreciate our rehab staff, which is dedicated to helping all people and our patients seem appreciate the rehabilitation care we provide them. - Suzanne, Physical Therapy
"My Supervisor is Always Asking for Nurses' Input"
I've been in the role to be a caretaker for a family member, so I see patient care from both the patient's and the nurse's viewpoint, which I find beneficial. I started out as a new grad at Southern California Hospital at Culver City, but stayed after completing the program because of the way nurses are treated. My manager, especially, is always asking us for input on how to improve our processes and care. More importantly, they implement our suggestions. - Courtney, RN, Medical/Surgical
"It's Rewarding to Advance My Career Here"
I started at Southern California Hospital at Culver City as a new nursing grad and found my colleagues to be helpful and patient. Opportunities like this don't come often; to be able to advance my career in this environment has been very rewarding. - Carlos, RN, Telemetry
"People Care About Each Other"
I love working here for both the patients and the people. I had many chances to work elsewhere, but I always stayed at Southern California Hospitals (fomerly Brotman) because it's like a family. I came to a new country and city and felt right at home here. People care about each other and help each other out. Read more about Enid's story. - Enid, Charge RN, Behavioral Health
"I'm Always Being Encouraged to Expand My Nursing Career"
I appreciate three things about working at Southern California Hospital at Culver City: the teamwork, focus on employee and patient safety, and educational opportunities. Teamwork and safety are highly emphasized here–which benefits the nurses and the patients. In addition, I am always being encouraged to expand my nursing career expertise by attending the FlexEd courses, lecture series, and HealthStream online learning. - Sidikat, RN, BSN, PHN, Critical Care
"Hospital Leadership Encourages Suggestions from Nurses and Listens to Feedback"
I initially chose to work at Southern California Hospital at Culver City because the hospital had a strong new grad program and offered scheduling flexibility. Since working here, I also discovered that hospital leadership encourages suggestions from nurses on how to improve the patient experience and really listens to our feedback. My coworkers are very supportive and that makes patient care a lot easier. - Danielle, RN, Telemetry
"When My Patients Thank Me Just for Listening, it Makes My Day"
I chose to work in this field more than 25 years ago because mental health issues often are not as easily identifiable as medical illnesses. You have to dig deeper with behavioral health patients to learn about their condition.
I try to take the time to listen to our patients, set limits and help them to gain understanding about their medications. When they thank me just for listening, it makes my day. Sometimes they even call me Uncle Ruben. Read more of Ruben's story. - Ruben, Behavioral Health Tech
"Something About this Place... It's Amazing"
Something about this place, it's amazing—I feel like it is a family. I look forward to coming here every day. With our new leadership, I have never seen the administration so motivated to move the hospital forward. This place is the best it has ever been; I love it. In regard to patient care, my philosophy is that they are not only patients, they are humans with a heart. - Eddie, Behavioral Health Tech
"As a Patient and a Nurse, I Learned How Wonderful this Hospital Is"
As a nurse, I never expected to be a patient in my own hospital. I learned a new saying the day I became sick, mai dire mai, which means 'never say never' in Italian. It sometimes can take getting very sick and being a patient to learn how wonderful Southern California Hospital at Culver City is. In addition to the great emergency and surgical care, I credit the love and attention of the exceptional team for saving my life. Read more of Sally's story. - Sally, Behavioral Health Nurse
"I Always Feel Like My Workload is Light Because Everyone Pitches In to Help"
In 2018, I went from being an LVN to an RN and love the variety of floating to different units. I always feel like my workload is light because everyone pitches in to help each other. I also enjoy the cultural diversity of our patients as this requires a different approach and communication skills with different patients. - Junel, RN, Behavioral Health/Acute Rehab/Subacute