Our Healthcare Heroes' Journey During COVID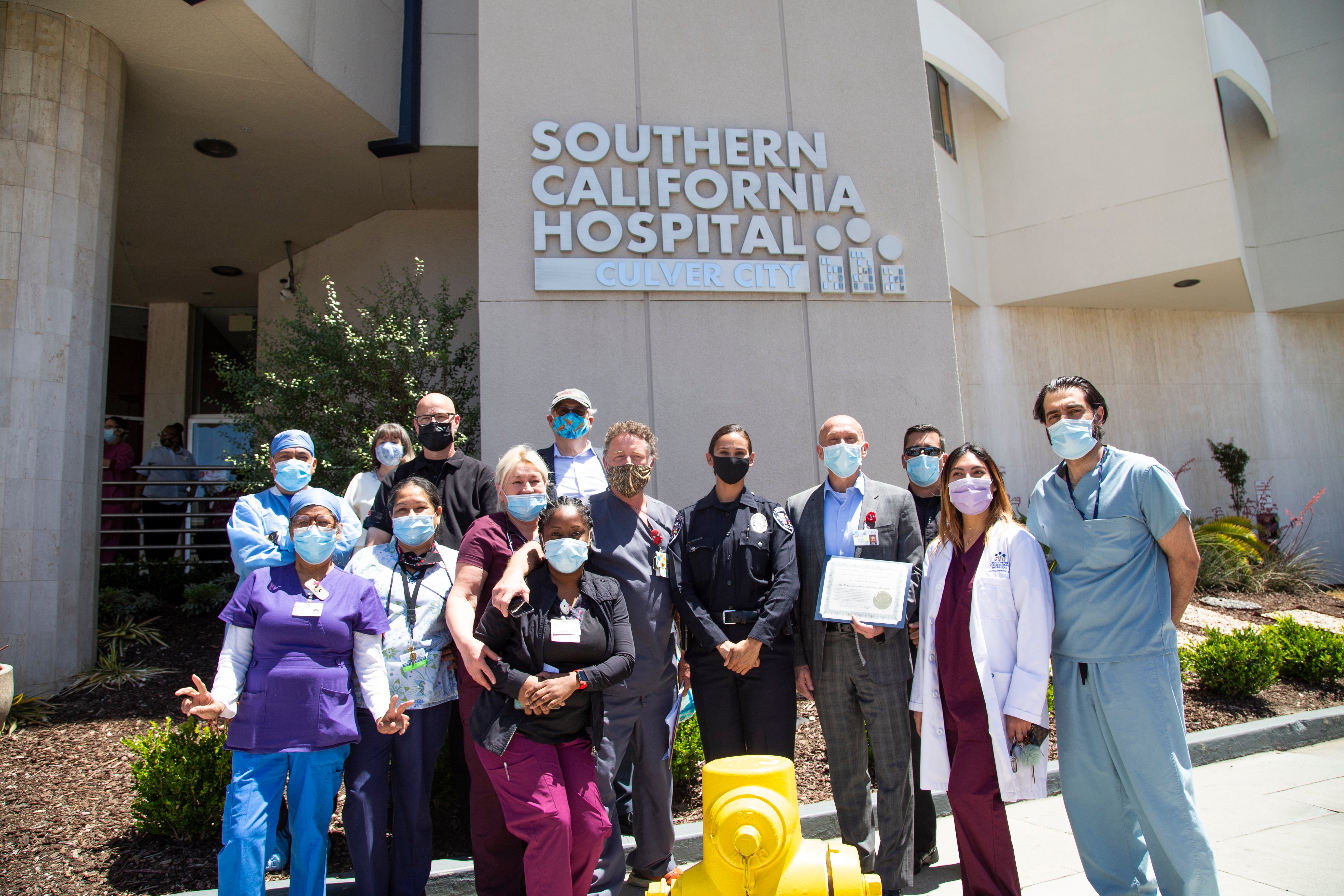 At the end of January, health officials confirmed the first case of novel coronavirus in Los Angeles County, a returning traveler from Wuhan, China. Two months later, that number had skyrocketed to over 1,200 cases. Healthcare workers on the frontline, including those at Southern California Hospital at Culver City, scrambled to treat and contain patients infected with a never-before-seen pathogen.

"When you're in the land of the unknown, it's a lonely environment. It's hard to know which direction to go," said Chief Nursing Officer Michael McGinty, who went through COVID-19 himself. "You're there as a nurse on the floor, and it's a totally new, different situation."

But McGinty and other hospital staff — from doctors and nurses to housekeeping and case management — stepped up to the challenge by working together as a team. Instead of battling the growing pandemic as separate units, both front-line and behind-the-scenes workers came together as one team with a one mission: protect the many lives at stake and come out of the COVID-19 crisis stronger than before.

According to leadership, all the hard work, cooperation, and personal sacrifice up to this point has paid off. CEO Michael Klepin applauds the exceptional efforts during the pandemic to keep both patients and healthcare professionals safe.

"It clearly demonstrated to me that this is more than just a job for our employees," he said. "It's a commitment to take care of our community, and it showed every time they came into work."
"We did a great job compared to other hospitals in Los Angeles, and I couldn't be more proud of that," he added.

Managing PPE

One of the biggest hurdles faced by hospitals during the early days of the pandemic was a nationwide shortage of PPE. Incoming patients with symptoms were assumed to have COVID-19 until proven otherwise, but at that point, tests took a week or more to give any results. Many hospitals were burning through their supplies of masks, gloves, gowns, and face shields faster than they could be replaced.

McGinty and his colleagues wanted full transparency about PPE supplies for front-line workers at Southern California Hospital at Culver City. They came up with a board, updated daily, that gives a stoplight report on each PPE item. Green means there's more than enough of that item available, yellow means they are running low, and red means they need to add more of that item.

"We had this communication board available for the staff when they walked into the hospital to let everyone know our numbers every day," said Chief Operating Officer Shana Crittenden. "As a result, we did not have any crisis-level issues from PPE."

In June, the hospital purchased rapid testing for COVID-19, which subsequently cut the wait time down to two hours or less. Since about 90% of the results came back negative, it significantly reduced the burn on PPE and isolation rooms.
"The rapid testing was a game changer for us," Klepin said. "Now we can test every patient who comes in and know right away whether they are COVID-positive or not. We've eliminated that uncertainty, and now we're able to keep a good stockpile of PPE."

Keeping the Community Informed

The beginning of the COVID-19 pandemic saw the world as a whole stepping into unknown territory. Guidelines on how to keep patients and staff safe changed daily as researchers discovered new information about the novel coronavirus. In such an ever-shifting situation, as McGinty and his colleagues realized, communication is key.

"We developed a command center in early March, manned by Shana, me and a few others, which served as a 24-hour hotline both for employees and community members to call in with any questions," McGinty said.

They fielded questions about symptoms of COVID-19, where to get tested, isolation room availability, and community resources outside the hospital. Having a centralized hub for information and guidance meant that staff members had the knowledge to create a safe environment for themselves while caring for and educating patients. Even as messaging from multiple sources differed, due to the uncharted nature of the pandemic, employees manning the command center did their best to keep a level head and give the best advice available to them.

"I'm so proud of how everyone remained calm and worked through any issues that came up. They were doing a lot of out-of-the-box thinking in terms of, how do we take this unknown and manage through it?" said Klepin. "Keeping the staff and community informed and comfortable that we had this thing under control was so important."

One Mission, One Team

The healthcare heroes of Southern California Hospital at Culver City include the doctors, nurses, and other frontline staff but also the many employees who work behind the scenes.

Housekeeping went through extensive training on the new standards for deep cleaning and disinfection to prevent the spread of COVID-19. Case management and social work came up with solutions to the many issues that tend to arise in a rapidly evolving healthcare environment. Administration found ways to acquire more staff when needed and help employees take days off to prevent burnout.

Outside of the hospital, members of the surrounding Culver City and West LA communities provided an outpouring of support. Volunteers donated thousands of PPE items, sewed handmade gowns and masks, and cooked or bought food for hospital employees.

"It helped everyone not feel alone, and when you don't feel alone, you get stronger and perform better. It made us one unit, moving together and not fighting separate battles on our own," said McGinty. "We came out of this well due to the way we unified early on in the situation."
It is important not to delay important medical care because of COVID fears. Southern California Hospital at Culver City has extra precautions in place to ensure the safety of patients and staff. Read more about the precautions.